Hampshire woman's face 'burned' by drain unblocker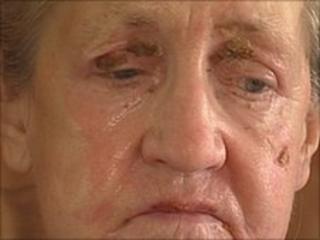 A grandmother is warning about the dangers of some powerful cleaning products after a drain unblocker exploded in her face, causing burns.
Sheila Insch was using Extreme Green's Dr Drain at her Hampshire home.
She says she followed the instructions by pouring just two drops in her drain.
It is understood the makers of Extreme Green are working with trading standards to determine what happened but believe it may have been mixed with other chemicals already in the drain.
Extreme pain
Ms Insch said doctors at Southampton General Hospital told her she probably saved her sight by closing her eyes.
"It started to bubble and I thought 'oh it's working'," she said.
"And then the bubbles started to come up and it went bang, hit the ceiling, it hit me right in the face and went through my clothes."
Her daughter, Gwen Vincent, who was also there at the house in Netley Abbey, said: "There's nothing you could say to actually describe seeing your mother's face melting in front of you.
"I've never been so horrified in my entire life.
"You knew what pain she was going through because I had splashes, but this was her whole face and body."
The Extreme Green manfacturer's website says the firm has "developed a range that is safe to use, suitable for the tasks, minimises the impact on people and planet, and uses sustainable bio-degradable materials".