Gateshead gun victim 'threatened' with gun before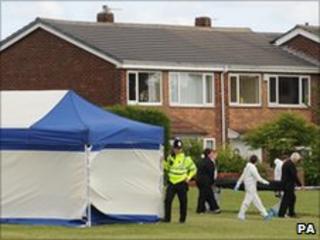 A man believed to have shot his former girlfriend and killed her new partner, had threatened her at gunpoint before, according to her grandmother.
Raoul Thomas Moat, 37, is thought to have carried out the attack near Gateshead before shooting and injuring a police officer.
The woman, named locally as Samantha Stobbart, is critically ill.
Her grandmother Agnes Hornsby said the 22-year-old has a daughter with Moat and said it was a violent relationship.
On Saturday a man, believed to be Ms Stobbart's current boyfriend, was shot dead outside the property in Scafell, Birtley.
Ms Hornsby, 69, said her granddaughter and Moat had been living together for around six years and have a two-year-old daughter.
Miss Stobbart would stay with her when the relationship with Moat was going wrong, said Ms Hornsby.
Moat had turned up at her house in Gateshead one evening last year, wielding a gun as he believed Ms Stobbart, who was in the house, was seeing another man.
"He threatened us with a gun, all because she'd put on her Facebook that she was going out with a friend.
"He had a gun then and he was out there for about two hours and she was on the phone to him trying to calm him down."
Ms Hornsby said she told Moat she would report him to the police, but he replied: "If you phone the police I'll get some of them before they get me."
"He's got a violent temper. He split her head open one night.
"From what she told me he threw her against a wall and jumped on her stomach."
Ms Stobbart's father Steve has reportedly told Ms Hornsby his daughter was shot once through her arm which was across her stomach at the moment of impact.
He told her she had undergone surgery on her liver, but her arm may have taken some of the impact.
When asked how Moat might have got a gun, Ms Hornsby said: "He knew everybody and knew how to get things."
The 69-year-old said she was now fearful for her own life.
She said: "I'm terrified he's going to come here now because he knows I'm the most vulnerable one.
"He's got a grudge against me because every time he used to hit her she came here and then she would go back.
"I always tried to persuade her not to."