Lagarde eyes release of EU bank stress test results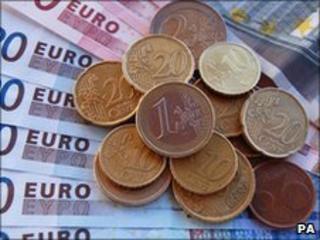 The result of stress tests carried out to show if Europe's banks can cope with more economic shocks will be published later this month.
French Economy Minister Christine Lagarde said the results of tests, designed to boost confidence in the sector, will be known on 23 July.
And she predicted the tests will show European banks are "solid and healthy".
The tests on banks came after investor concerns about the health of the European banking sector.
Bond worries
The tests are designed to examine how certain banks would perform if there were a repeat of the financial crisis.
There are continued concerns that some European banks' balance sheets are burdened by bonds from Greece, Spain and Portugal.
These bonds have lost significant value over the course of the ongoing debt crisis.
Banks also face pressure from tighter capital requirements, extra taxes and additional regulation.
Last week the EU said it was to treble the number of banks that would be subject to public stress tests, as it tries to allay a growing global anxiety over Europe's finance sector.
'Exact criteria'
However, some analysts believe the exact criteria of the stress tests needs to be disclosed if the tests are to convince markets.
"You will soon be seeing the number of banks that will be submitted to the stress test, you will have better understanding of the exact criteria we apply and of how heavily we stress the system," said Mrs Lagarde.
"And then later on 23 July, the result of the stress test will be issued."
She added: "You will see that banks in Europe are solid and healthy."
The number of those forced to take part in the EU exercise will expand from the 22 big banks examined last year to include a further 60 to 120 banks, meaning that many not included in last year's stress-tests will now feature.
They include, for the first time, banks such as German Landesbanken, which are not among the biggest institutions but whose potential weaknesses have contributed to uncertainty in financial markets.