Michael McGimpsey defends council no-show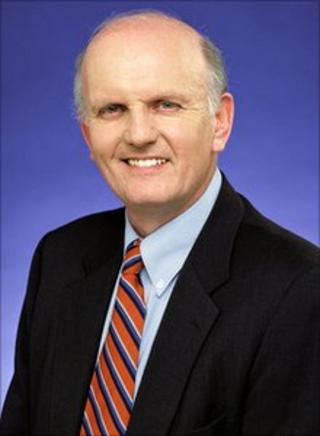 Health Minister Michael McGimpsey has defended his decision not to attend Monday's North South Ministerial Council meeting.
Deputy First Minister Martin McGuinness said he was disappointed that Mr McGimpsey had failed to attend even though health was on the agenda.
Mr McGimpsey said he had no qualms about a meeting in Dublin, but he had more important business to get on with.
"I do have a health service to run and it's a full-time job," he said.
"Frankly, I haven't time to go junketing down to Dublin or Guernsey or anywhere else.
"I will go where I have business to do - I have done the business with (Irish health minister) Mary Harney four weeks ago in our meeting with Armagh.
"And as far as I'm concerned until the next meeting comes along, that's it."
Earlier, Mr McGuinness said: "I want to put on record my disappointment that our health minister has not been at this meeting.
"In fact, there have been quite a number of meetings of the North-South Ministerial Council that he has not attended and I think that's a mistake, given that we are talking about these important issues, such as child protection, the whole issue of radiotherapy and indeed many other issues that are relevant to his department."
Economy
The economy was discussed by the first and deputy first ministers at a meeting with Irish Prime Minister Brian Cowen during the event in Dublin.
Ministers also discussed a range of areas involving north-south co-operation.
The politicians have been considering how their administrations can work together to improve services.
Specific areas of cross-border co-operation were also on the agenda, including infrastructure.
It was the first full session of the North South Ministerial Council since Peter Robinson and Martin McGuinness argued in front of the cameras about the devolution of justice last December.
It is thought one issue also raised was a plan by the Irish Food Board, known as Bord Bia, to label Northern Ireland produce in a distinct way in order to encourage southern consumers to buy food from south of the border.
The plan has been suspended, but unionist politicians want it abandoned completely.
Mr Robinson also held talks with Irish President Mary McAleese.
Mr Robinson said the meeting focused on helping areas of disadvantage, in Belfast, in particular, and also on the prospect of a visit to the Republic of Ireland by the Queen.
He said he hoped that the same respect that he showed to the Irish head of state would be shown to the Queen when she visits the Republic of Ireland.
Mr McGuinness was asked if he would discourage protests from his party if a Royal visit to the Republic went ahead.
He said Sinn Fein had made its position on any visit clear.
Last month, Sinn Fein TD Caoimhghin O Caolain described as "totally unacceptable" Mr Cowen's welcome for a visit to Ireland by the Queen.