Scotland counts the cost of winter potholes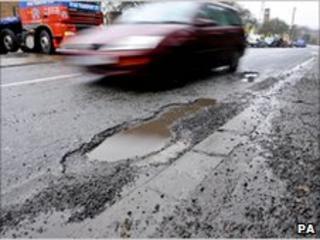 Scotland's council's have spent tens of thousands in claims for compensation after the coldest winter for decades left the country's roads pitted with potholes.
Maintenance costs for repairs, gritting and snow ploughs also soared.
Aberdeenshire Council had one of the highest bills for maintenance, which shot up from £1.65m from November to March to £7.7m.
Hundreds of people claimed for injury and damage because of poor roads.
Glasgow spent £4m, almost double its usual bill of £2.5m on road maintenance and had double the number of compensation claims at 544.
Midlothian Council also saw its claims double to 75. East Lothian Council said it had already paid out £10,000 in compensation.
Damages claims
Edinburgh City Council said its road maintenance bill was more than £3m.
Transport convenor Gordon Mackenzie said lessons had been learned after what happened this winter and local authorities will be better prepared in future.
Scottish Borders Council said its bill was more than £4m and put the cost of permanent repairs at £8m.
Fife Council saw its bill increase by more than £2m with 159 claims for injuries or damaged vehicles caused by the bad weather. Thirteen of those were settled.
Renfrewshire Council received just under 200 claims for damage to vehicles during the cold snap. Thirty-eight of those were settled at a cost of more than £5,000.
Angus Council put its bill at just under £3m. It had 129 claims, seven of which were paid out a cost of just under £1,000.
Twenty-six councils were questioned by the Press Association between May and June this year. They discounted introducing a "snow-levy" tax to help pay for additional cost of the harsh winter.