Residents mark Isle of Man's Tynwald Day event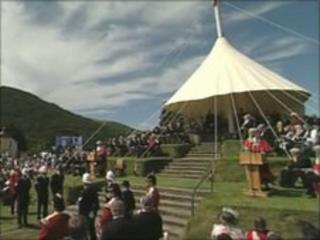 People have gathered on Tynwald Hill for the Isle of Man's annual Tynwald Day celebration.
Known as Midsummer's Court, the historic day was first codified by the island's parliament on Tynwald Hill in 1417.
Parliament assembled on the site for an ancient ceremony in which new laws are promulgated in both English and the Manx Gaelic.
The day was also a chance for people to air their grievances to politicians.
Joined by the Deemsters, judges on the Isle of Man, the island's leaders listened to the new laws they made in the past year.
Aside from the formal proceedings, the occasion is used by Manx residents to gather with friends and family.