Barbecue burn boy returns home to Bournemouth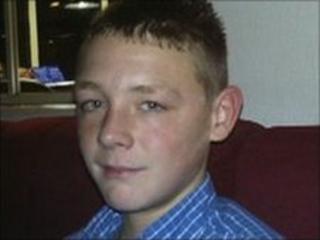 A teenager has spoken of the moment he was engulfed in flames at a barbecue in Dorset as he returns home after two months in hospital.
Will Reynolds, 16, from Bournemouth, suffered 50% burns when one of his friends apparently threw methylated spirits on the barbecue in Highcliffe on 3 May.
The teenager was treated for two months at Frenchay Hospital in Bristol where he was put in an drug-induced coma and underwent a number of treatments, including skin grafts.
He has returned home but cannot be exposed to direct sunlight and is facing two years of recovery.
Will told BBC News how the "whole bottle [of methylated spirits] went in and it blew up on me".
"I just saw flames come towards me and as soon as they hit me I fell backwards.
"I panicked but I didn't roll over straight away and ran through the house into the front garden and rolled on the ground.
"Where it soaked into my clothes the flames wouldn't go out so I had to rip off my T-shirt and my friend Harry came to help me."
Will was put in a drug-induced coma when he was admitted to hospital and treated for his extensive burns.
Plastic collar
He is now facing two years of physiotherapy to regain movement in his upper body and is also seeing a psychologist.
"I have to wear a clear plastic collar with silicon cream so it softens up the scars on my neck so I have more movement," the teenager said.
"I think about that day quite a lot. I went really down and didn't want to speak to anyone to start with."
But he said his confidence was "boosted" when friend Harry started a campaign to help his recovery.
Funds are being raised to convert a garage at Will's family home into a mini youth centre.
He will not be able to tolerate any exposure to daylight, so Harry hopes his friend will be able to spend time with Will in the window-less garage instead.
Businesses have already made pledges to do electrical and plastering work.
Will said: "When I realised I had so many people around me I wanted to fight.
"In the summer I won't be able to go out...so doing things in the garage will be great.
"I just can't wait until I can have a normal life again."
Dorset Police are investigating the incident but no one has been arrested.