Homes plan for Polegate an 'affront to National Park'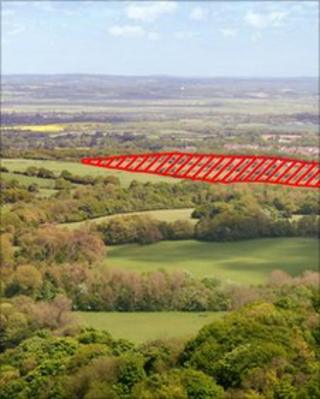 A plan to build 520 houses on the border of the new South Downs National Park has been called a "brazen affront" by environmental campaigners.
The scheme for Honey Farm, in Polegate, East Sussex, has been turned down by Wealden District Council, but developer Pelham Homes has appealed.
The Campaign to Protect Rural England (CPRE) has called on the public to join the fight against the plans.
Pelham Homes said the new homes would revitalise Polegate town centre.
The developer wants to build a "new community as an extension to Polegate".
Its website says there would be a school and other facilities.
The initial 520 homes could be followed by up to a further 2,200 new homes and a link road.
Wealden refused permission for the 520 homes on open countryside last December because of its impact on the South Downs.
A previous application for 1,000 homes on the land was turned down in 2006.
A public inquiry is due to be held in 2011.
'Wrong plan'
"It's clear to any walker on the Downs that this development would be a savage scar on the face of the new National Park," said CPRE Sussex director Stuart Neier.
"It's simply the wrong plan in the wrong place.
"The area is both inaccessible because it is on the wrong side of the A27, and will be a very prominent disfigurement to a landscape that is overlooked from Coombe Hill, Folkington Down and Wilmington Hill, a favoured visiting point for the Long Man of Wilmington."
A public meeting is planned in the near future to discuss the plans.
Pelham Homes said the development would provide a range of quality new homes.
It would bring new facilities to Polegate that would benefit both existing and new residents alike.