Nationwide likely to end England sponsorship deal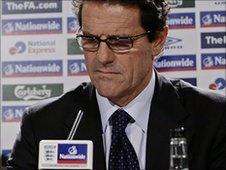 Building society Nationwide says it is likely to end its sponsorship of the England football team.
Nationwide had tabled a £20m offer to extend the partnership for another four years, but this had been turned down by the FA.
Now, the building society has said that sponsorship, which ends at the end of July, was "unlikely to be renewed".
Sponsorship deals with the Wales, Northern Ireland and Scotland squads are also expected to come to an end.
England were beaten in the first knock-out stage of the World Cup in South Africa with a 4-1 defeat to Germany.
When it turned down the Nationwide offer made 12 months ago, the FA were said to be reasonably confident of England making more of an impact in the World Cup and held out in the hope of attracting a more lucrative offer.
But a number of Nationwide's 15 million members were unsure whether a large amount of money should be put into a sponsorship contract at a time of economic uncertainty.
Sponsorship included branding on all training kit and tickets, backdrops during press conferences and signs at home games and training sessions.
"Nationwide's sponsorship of the England team has been extremely successful over 11 seasons and has significantly raised the profile of our organisation," a Nationwide spokesman said.
"Our current sponsorship deal ends at the end of July and it is unlikely to be renewed."
The next England game is a friendly against Hungary at Wembley on 11 August.
A spokesman for the FA said: "The current sponsorship deal between Nationwide and the FA completes at the end of July and at this time discussions remain ongoing."
Nationwide also has deals with the Wales, Scotland and Northern Ireland teams, which are also due to expire at the end of July. They are also unlikely to be renewed.
Related Internet Links
The BBC is not responsible for the content of external sites.