Anger over Verona to Inverness holiday flight delays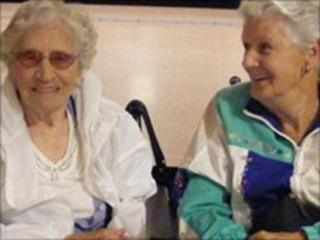 More than 140 holiday-makers from all across north and north east Scotland have arrived back at Inverness almost 18 hours late.
They should have arrived midday on Sunday direct from Verona, but were instead stranded at the northern Italy city's airport for most of the day.
The tourists were eventually flown to Glasgow and bussed to Inverness.
Andy Jones, of Newmarket holidays group, said the unfortunate situation was one the company deeply regretted.
Holiday-makers caught up included older people and a disabled child from the Highlands and Aberdeenshire.
Wheel chair-users Ina Ross, 92, from Inverness, and friend Joy Job, 86, from Nairn, were among the angry travellers complaining of getting no information on problems affecting their flight home from the holiday company, or airline.
The tourists were on a new charter package, flying direct between Inverness to Verona and taking in communities around Lake Garda.
Flight VIK 873 was expected to leave Verona at 1045 BST on Sunday and arrive in Inverness at midday.
However, departure was first delayed until noon, before a relief aircraft had to be drafted in because a fault with a door on the first plane.
According to passengers, the flight eventually took off at about 2300 BST and they were told it had been diverted to Glasgow because Inverness airport was closed.
At Glasgow Airport, the travellers waited two hours for their luggage before coaches arrived at 0200 BST to take them north.
They reached Inverness Airport at about 0600 BST.
'Unfortunate situation'
Air product director Mr Jones said the fault with the door could not be fixed immediately so another aircraft had to be found.
He said: "This was a very unfortunate situation and one which we deeply regret as we never wish for any of our passengers to experience delays.
"However, safety and care of attention is paramount and if the airline decide that an aircraft cannot operate due to safety reasons, we will always respect their views and be guided by them."
Highlands and Islands Airports, which runs Inverness, said the airport would have been open for the late flight.
A spokeswoman said staff at Inverness were told the flight had been diverted to Glasgow because of a technical fault with the aircraft.