East Midlands Airport brings in £1 drop-off fee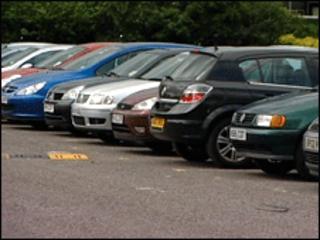 East Midlands Airport has introduced a new £1 charge to drop-off passengers at its main terminal.
Airport managers said passengers could be dropped off for an hour at its long-stay car park for free and take a bus to the terminal.
But if anyone uses the "rapid drop-off zone" it will cost £1 for 10 minutes.
Taxi driver Alan Pearson said the extra cost was unfair and another driver said it would cause congestion as motorists queue up to pay the charge.
New zones
Airport managing director Penny Coates said: "We are offering a free shuttle to and from the terminal from the long-stay car park."
The charge can be paid by using a collection basket, or "hopper", or by credit card.
Passengers have said there was congestion in the previous system, she said.
The short stay car park has also been reorganised into five new zones for blue badge holders, short stay, car hire, valet parking and the £1 passenger drop-off area.
The airport said the new layout would "significantly improve the traffic flow and reduce congestion at peak times".
The airport has also installed automatic number plate recognition system in all its car parks.
It said it would recognise cars that have pre-booked spaces when entering and exiting the car park, saving passengers time when arriving for a flight.