World Cup 'rebrands' South African economy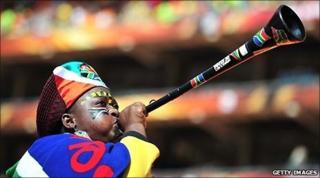 The slogan Ke Nako, or "it is time", has been the catchy theme phrase of the recent World Cup, promoting the idea of a South Africa ready and able to host huge global events.
And generally the country was ready, leaving aside some transport glitches and issues around Fifa's ticketing, as fans from 32 nations enjoyed the first World Cup on the African continent.
But is South Africa now ready for the post-World Cup economic challenges that face the nation, and can it carry forward the momentum created by hosting the event?
'Reputational boost'
"South Africans are very proud of what we have done here, it has been a fantastic event, from an economic and a unity perspective," says Lee-Anne Bac, director at Grant Thornton Strategic Solutions in Johannesburg.
"Hosting the 2010 World Cup will radically alter the landscape for tourism in southern Africa.
"There has also been a reputational boost for South Africa that can help bring inward investment and visitors.
"South Africa has been rebranding as a tourist destination and as one based around the development of a global sports event business model."
Experts believe the country will directly recoup only about a third of the 40bn rand ($5.3bn; £3.55bn) South Africa has spent on stadiums, transport infrastructure and upgrading airports.
And while the initial estimate was for 450,000 foreign visitors, new figures from the home affairs ministry suggest that 200,000 extra foreign World Cup fans arrived in the first three weeks of the tournament.
'Tourist momentum'
But Grant Thornton is predicting that thanks to the World Cup there will be an extra 1.5 million overseas visitors between now and 2015.
They also envisage an extra 500,000 tourists from within Africa visiting by air, and an extra 200,000 overland tourists from within the continent, taking the overall additional visitors to 2.2 million.
"So we really believe there will be a tourist momentum moving forward," says Ms Bac.
"The tourism structures we developed for 2010 will stay in place, and the aim is now to attract further events, conferences and conventions to the country.
"There has been media talk of attracting the 2020 Olympics, but events do not necessarily have to be of that size."
For example, last week the inaugural International Sports Tourism Conference was held in Johannesburg, and later this month the BMX World Championship will be held in KwaZulu-Natal Province.
'Good returns'
And many, including President Jacob Zuma, also envisage a lasting positive effect on the economy through the recent development of national infrastructure.
And Ms Bac says she has already noticed one potential economic benefit from the investment in infrastructure.
"As a citizen of South Africa it has made commercial life so much easier with the new roads and transport links, with less time wasted travelling and getting around," she says.
The infrastructure legacy of the World Cup also includes stadiums, airports, and information technology.
"We can safely say that we have good returns on our investment, which includes 33bn rand spent on transport infrastructure, telecommunications and stadiums," said President Zuma recently.
He said investment in stadiums had created some 6,000 new construction jobs, and the security demands of the tournament now meant the country had an additional 40,000 police officers.
Meanwhile there have also been increased hotel bookings, car rentals and sales of World Cup memorabilia (including the ubiquitous vuvuzelas) and sports items during the tournament. Advertising is also set to benefit from increased spending.
The South African Treasury had previously forecast the one-month tournament would add 0.4% to GDP this year, while Grant Thornton is predicting additional growth of 0.5%.
The actual economic figures about the effect the World Cup has had will not be announced for another few months yet, nor indeed will Fifa's or those of the local organising committee.
Training
But it is not all positive news: unions have been predicting an increase in unemployment, particularly among construction workers and temporary staff employed at the 10 host football grounds.
"Yes, the construction industry will suffer slightly," admits Ms Bac.
"But construction companies now have the World Cup work on their CVs and will be looking to win more projects, and there is a new pool of construction talent.
"There are not going to be any more stadia built but there are other projects. For example the Gautrain rail project still has to be built all the way to Pretoria."
And she said that the large infrastructure projects had provided training that workers might not otherwise have had, which could only help the country with regard to future construction developments.
She also said that many of those employed at stadiums worked for agencies providing hospitality and other staff, and that these would now hopefully be contracted to other events.
'Problems'
However, unemployment in South Africa remains high, while many in the country still live in poverty 16 years after apartheid ended.
South Africa, a country of 49 million people, has only five million taxpayers but 13 million people who receive a social grant of some sort, says Ms Bac.
"We have big problems in the country but not as bad as in some others," she adds.
"Yes there is still a large unemployment rate, and housing and other issues, but the World Cup cannot solve all these problems.
"However by providing employment it has hopefully increased the taxpayer base, providing more taxes which can then be spent on social needs."
And she says the World Cup has shown that in some areas - such as management of major stadiums - South Africa still needs a "skills transfer" from international experts.
But while all ethnic sectors of the country can benefit from such international expertise, Ms Bac acknowledges that post-World Cup "we need to equalise the skills factor of some sections of our community".
In this regard she believes that the Black Economic Empowerment (BEE) programmes could continue to play a useful role.
'Eye-opener'
Meanwhile, she says, the World Cup has been a "fantastic experience for South Africa" which the country hopes to build on with advertising around the globe to attract more visitors to the country.
"We have internationally-renowned cities - Cape Town, Durban, Johannesburg - and we have got the infrastructure to carry the country forward," she says.
Meanwhile there has been an unexpected benefit for football.
"The World Cup has brought more support across the communities for football too, where there has historically been a racial divide," she says.
"The tournament has been a real eye-opener for so many people in this country."