Cornish Fin whale bones buried before going on display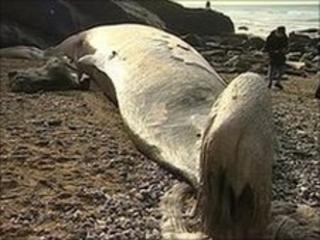 Three bones from a dead fin whale that washed up in Cornwall in February are to be buried in a field to help prepare them for going on display in a museum.
The 56ft (17m) long whale washed up at Porthtowan beach, near St Agnes.
The St Agnes Museum Trust is burying two 16ft (5m) long jaw bones and a vertebra to help the remaining flesh and fat on the bones decompose.
The trust said it was also covering the site in horse manure in a bid to help speed up the process.
The complete decomposition, which is hoped will remove all the fat on and within the bones, is expected to take several months.
'Doesn't do justice'
Trust Chairman Roger Radcliffe said that while the bones are beneath the ground, the museum will be working how to display them.
He said that ideas had been proposed to "do what other people have done" and make a whale-bone arch.
He said: "That doesn't do them justice, I don't think."
He added: "We would like to display them actually in the museum, and one of the ideas that's around at the moment is to sling them in such a way to represent an open lower jaw and then have it so that people can walk into the mouth of the whale."
The putrefying whale carcass was first spotted off Pendeen about five days before it was washed up on shore 37km (23miles) away at Porthtowan beach on 21 February.
It is not known when the female whale died or the cause of its death but Cornwall Wildlife Trust said it believed it was most likely to have been hit by a ship.
Fin whales are the second largest animals in the world and are seen most winters off the county's coast.