Education budget loses £1bn more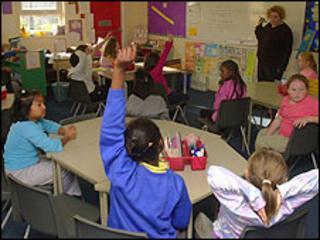 The education budget in England faces another £1bn reduction, following an announcement from the Treasury.
The Department for Business, Innovation and Skills, responsible for universities, will lose £265m.
Chief Secretary to the Treasury, Danny Alexander, said the cuts followed "unfunded promises".
The announcement was made as the coalition government also cancelled much of the school re-building programme.
The reductions in education spending are part of a total cuts across government of £1.54bn, announced by the Treasury.
'Cancelling plans'
They will affect spending plans which had depended upon funding from an underspend at the end of the financial year - the "end year flexibility".
Not all of the £1bn to be cut from education will have been allocated - some of it is in reserve and the education department says savings can be achieved through "better financial management and tighter controls".
But £169.5m of the funding has already been ear-marked for projects which will now be cancelled.
This includes £50m from a technology improvement fund, £50m for diploma provision, £24m for co-location projects for schools and £15m for school swimming pools.
The Sure Start scheme for families of young children will also face unspecified amounts of savings for capital spending.
"The previous government committed to spending money it simply did not have, but this coalition government has taken action to address this serious situation," said Mr Alexander.
"The decisions have not been easy, but the understanding and cooperation of my Cabinet colleagues has enabled us to act swiftly to ensure that the nation can live within its means."
The Shadow Education Secretary Ed Balls has rejected any suggestion that any of his spending plans, under the Labour government, had not been correctly funded.
The end-year flexibility is a mechanism whereby departments may carry forward unspent budget provision into later financial years