New locks on Moss Side electric gates after child death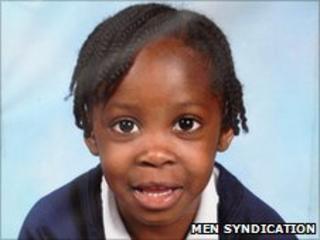 Four electric gates in south Manchester - similar to the one that fatally trapped a six-year-old girl - have been locked open by safety inspectors.
Semelia Campbell was caught between the rolling gate and a brick post at flats off Maine Road, Moss Side, last week.
A five-year-old girl died in similar circumstances in Bridgend on Sunday and the Health and Safety Executive (HSE) is investigating both incidents.
It has emerged the HSE issued a safety alert about such gates in February.
Semelia's mother Judith Gilroy tried to stop the gate with her fob key and then switched off the electricity but she was unable to save her daughter.
A police officer smashed the motor on the gate to stop it closing further and pulled her out.
Engineering experts
She was taken by ambulance to the Royal Manchester Children's Hospital where she died a short time later.
Greater Manchester Police (GMP) is also investigating the incident, which happened at the communal area of a site still under construction.
A spokesperson for the HSE said specialist inspectors with expertise in mechanical engineering had been on site to investigate.
"In Manchester, HSE and GMP have required that developments in the vicinity of the Maine Road estate, which have gates similar to those being investigated following the death of Semelia Campbell, are locked in an open position until inspectors can fully examine them and ensure there is no ongoing risk.
"HSE issued a safety alert to gate manufacturers and installers in February this year, reminding them of their safety responsibilities when designing, constructing and installing electrically powered gates, to minimise the risk of an incident happening."
The HSE said anyone with concerns about electric gates on their development should speak with the management company or their installer.
Both have have a duty to ensure the gates will stop safely should they be obstructed - known as force limitation protection, the HSE said.
"They must ensure that the force limitation protection and other anti-crushing, shearing and trapping safety protection devices are correctly set and maintained," the spokesperson added.
Tributes, including flowers and toys, were laid next to the wrought-iron gate after the incident.
Semelia's head teacher at The Divine Mercy RC Primary School, Paddy Heneghan, described her as a "lovely, bubbly little girl".