Community-wide development projects 'cheaper'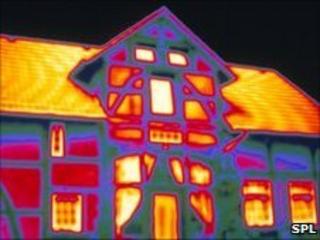 Projects to improve communities in Wales have been praised in a report on the benefits of collaborative working.
The Sustainable Development Commission (SDC) found communities which worked together to make environmental changes saved money, had higher levels of participation and less disruption.
It also warned failing to update local infrastructure had a negative effect on many aspects of local people's lives.
One project in Cardiff made savings of 20% through neighbourhood working.
The report found about £380m of energy is wasted in Wales every year because of homes that are poorly insulated, have inefficient or poorly controlled heating systems and use electricity unnecessarily.
A report by Shelter Cymru in 2000 estimated substandard housing cost the NHS in Wales at least £50m annually.
A separate report by the SDC also found evidence that lack of access to green spaces and safe walking and cycling routes contributed to high levels of obesity and mental ill health.
Two of the examples of good practice in Wales cited have involved work being carried out on a community-wide scale.
The Heads of the Valleys low carbon regeneration scheme run by the Welsh Assembly Government has created jobs and cut carbon emissions through upgrading existing housing.
Part of the work is now being replicated in regeneration areas in other parts of Wales.
At the Cardiff partnering scheme, approximately 100 social and private sector houses and five blocks of flats had their energy efficiency ratings improved through collective work.
The partnership found doing a neighbourhood project would be at least 20% cheaper than doing individual installations.
The delivery time was improved as some of the work required for individual upgrades did not need to be repeated, and there was less preliminary work required for each property.
Work on roof extensions could be done for a whole terrace in one go, and the project had the ability to bulk buy materials, especially insulation, at lower rates.
The project needed a lot of upfront planning to ensure these efficiencies could be delivered once the work actually began.
Local authority tenants had work paid for by the council while private owners could either apply for a means-tested grant, or if not eligible could buy into the scheme at preferential rates.
Between 20-25% of private households not eligible for the grant joined the scheme, often after seeing the improved external appearance of properties during the first phase of works.
Peter Davies, SDC commissioner for Wales, said: "People want to live in places that feel safe, homes that are affordable to heat and neighbourhoods that are resilient to extreme weather.
"An integrated approach, rather than focusing on one issue such as climate change, gives local people more opportunities to get involved in neighbourhood improvements - and that involvement will also increase the long term benefits.
"There's a clear need to improve our neighbourhoods in Wales. If we fail to act, we could face massive costs in terms of traffic congestion, treating poor health and dealing with the effects of climate change.
"At a time of tight finances, tackling whole neighbourhoods in an integrated way offers a cost-effective solution."