UK soldier dies in Afghanistan explosion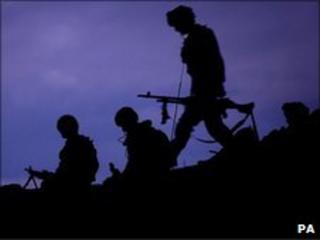 A UK soldier has been killed in an explosion while on vehicle patrol in Afghanistan, the Ministry of Defence has said.
The serviceman, from The Royal Dragoon Guards, died on Monday in the Nahr-e Saraj district of Helmand province. His next of kin have been told.
Lt Col James Carr-Smith praised the soldier's "courage and sacrifice".
His death brings the total number of UK personnel killed in Afghanistan since 2001 to 311.
The soldier was attached to the 1st Battalion The Royal Gurkha Rifles Battle Group.
"He was part of a screening force that was providing protection to enable the building of a road in the Babaji area such that local Afghans could move more freely when he was struck by an explosion," Lt Col Carr-Smith said.
"He died in the course of his duty and among his fellow soldiers. His courage and sacrifice will not be forgotten. We will remember him."