Puppy found dumped in rubbish bin at Edinburgh flats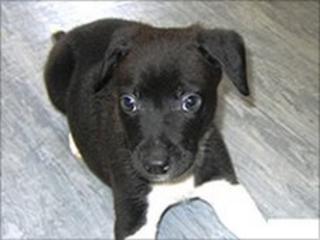 A dog owner is being sought after abandoning a young puppy in a bin cupboard in Edinburgh.
The eight-week-old animal was rescued after a resident in the high rise flats heard its cries.
The collie cross, named Biffa by staff at the Scottish SPCA, had been put in a box and left in the cupboard at Dunsyre House in Calder Drive.
It was found last Monday and has since been recovering at the charity's rehoming centre in Dumbarton.
Although Biffa was not injured, staff at the Scottish SPCA are want to find out who dumped the puppy.
'Defenceless puppy'
Scottish SPCA Insp Jenni Surgeon said: "It's very hard to understand why anyone would choose to dump a defenceless little puppy in this way.
"At eight weeks he is old enough to be away from his mum, but he can't fend for himself entirely and needs the care and attention of an owner.
"He's an affectionate and playful little pup and I'm sure we will find him a loving family home very soon.
"We are urging anyone who recognises the puppy and knows who might have owned him to get in touch with us."