Tenbury Wells opens 'oast house' toilets after floods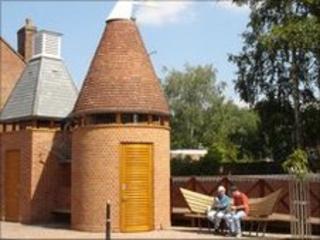 A Worcestershire town which lost its public conveniences in a flash flood has had them rebuilt to look like oast houses.
The toilets in Market Street, Tenbury Wells, had been the subject of a campaign to keep them open after the council announced plans to close them in 2007.
Just after the council changed its mind and they reopened, a flash flood in July of that year destroyed them.
The new toilets are a hop kiln design.
Retired architect and local councillor Tony Penn oversaw the project and said it had been unbelievable that the old toilet block fell victim to the floods within a fortnight of reopening.
"However, these new facilities with their distinctive look are a fantastic replacement.
"No other town will have public conveniences like ours," he said.