Health cuts 'motivated by party politics' - McGimpsey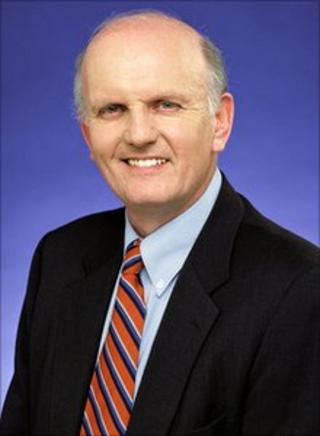 Health Minister Michael McGimpsey has said the current decision not to exempt the health budget from further cuts is entirely political.
Mr McGimpsey was speaking ahead of an Executive "away day".
He said he would use it to try to convince ministers that health should be ring-fenced.
However, Finance Minister Sammy Wilson said all Stormont government departments were going to have to play their part in making cuts.
Mr Wilson said that "we are facing a financial crisis not of our own making and ministers will have to find a collective way forward".
On Tuesday, Mr Wilson said that "if we exempted the health budget" then there would be a "disproportionate hit" on other areas including education and the economy.
Meanwhile, Mr McGimpsey also accused Sinn Fein of gross hypocrisy when it came to protesting against cuts.
He said they often did so after voting in favour of the cuts.
The health budgets in England and Scotland have been ring-fenced and Mr McGimpsey said the decision not to do so in Northern Ireland was motivated by party political considerations.
"I think it's political. The DUP before the assembly elections said the health budget should rise 20%.
"Immediately they get elected and I'm the minister they're arguing there should be no rises," he said.
"We have members, for example also in Sinn Fein, who vote for those cuts and then go and protest against the cuts when the cuts come along.
"I think that's gross hypocrisy and I think the people here deserve a wee bit of honesty."
In a statement, a spokesperson for the Department of Finance and Personnel said the NI health budget could not be compared to the rest of the UK as it contains the issue of public safety, the fire service and social services which are not protected or ring-fenced anywhere else.