Hampshire funeral for Afghanistan blast marine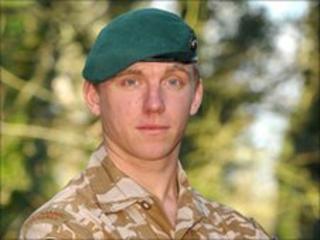 Hundreds of people gathered for the funeral of the 300th member of the UK forces to die as a result of the conflict in Afghanistan.
Marine Richard Hollington was injured in a blast in the Sangin district of Helmand on 12 June and died from his injuries eight days later.
The 23-year-old, of Petersfield, Hampshire, who served in 40 Commando, "lived as a lion", his family said.
His funeral was held at All Saints Church in his home village of Steep.
At the service, with full military honours, a tribute was read by family friend Brig Charlie Hobson.
He said: "Not one of us knows what he might have become, but all of us know that our lives are richer because we knew him and that the sense of loss is huge.
"He was untainted by age and experience and was still, in many ways, an innocent young man with the greatest potential."
Villagers lined the street outside the churchyard, which was filled with mourners.
The service was relayed on speakers for those unable to fit inside the small church.
The funeral was followed by a private cremation at Chichester Crematorium.
Marine Hollington's parents then invited mourners to join them at the Seven Stars in Stroud, one of their son's favourite pubs, to celebrate his life.
Donated organs
His family, who were by his side when he died in Birmingham's Queen Elizabeth Hospital, said: "Richard will leave a huge numbing hole in the lives of his family, friends and Royal Marine colleagues.
"The saying goes, 'It is better to live one day as a lion than your whole life as a worm'.
"He chose to live his days as a lion and to us, and we believe his friends, he was the biggest, if softest, lion in the pride - how proud of him we all are."
Brig Hobson said Marine Hollington's decision to donate his organs had saved the life of a 52-year-old father of two, who now has one of his kidneys.
A 19-year-old received another kidney, while two people regained their sight, and "a whole host of babies have good hearts now", thanks to his generosity.
Brig Hobson added: "If he cannot be with us then he at least has spared some others."
Marine Hollington was deployed to the Sangin district in April.
As a member of Bravo Company, he had been conducting joint operations with the Afghan National Security Forces.
His friends from 1 Section, 11 Troop, sent a message from Helmand, reading: "Dicky Hollington was an experienced and respected Marine within 11 Troop.
"He cleared the route from the front for the rest of the lads.
"He did this selflessly without complaint every time we went out.
"Despite the relentlessness of this role day in, day out, he did so always wearing his huge characteristic smile."
Lt Col Paul James, commanding officer 40 Commando Group, Combined Force Sangin, said Marine Hollington was "one of my finest".
He said: "It takes extraordinary courage to be at the front of every patrol but Marine Hollington did so with the professional pride that gave confidence to others.
"He was a strong and resilient man with an immense personality."
Marine Hollington leaves his parents and younger brothers Nick and Charlie.