Stock markets rise as investors look for 'cheap' shares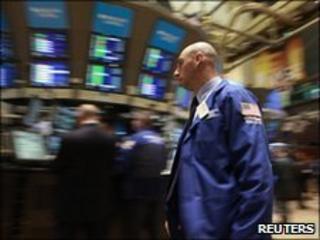 Shares on a range of world markets jumped on Tuesday as investors looked to take advantage of what they perceived as cheap, oversold stocks.
The imminent announcement of pricing details for the flotation of Agricultural Bank of China (Agbank) helped to improve sentiment.
Positive comments by a European Central Bank (ECB) member about the finances of French banks also boosted stocks.
The main European markets gained more than 2.5%.
Earlier, China's Shanghai composite index climbed 1.9%.
Meanwhile, an encouraging opening rise of 1% on Wall Street on Tuesday afternoon softened throughout the session and the Dow Jones finished with a more rise of 0.59%.
Stock markets have fallen in recent weeks over fears about the strength of both the European banking sector and the global economic recovery.
"The market had got down to quite an oversold level," said Colin McLean, managing director at fund manager SVM.
"The fall has been a bit indiscriminate over the past few weeks."
Stress tests
But Chinese shares led the rally on Tuesday as investors awaited details of the Agbank flotation, which many expect to be the world's biggest share offering to date.
Comments by Christian Noyer, a member of the ECB governing council, hinting that French banks should pass upcoming stress tests served to encourage investors further.
The results of these stress tests, carried out to show if Europe's banks can cope with more economic shocks, will be published later this month.
European stocks rose as a result, with the UK's FTSE 100 index up 2.8%, France's Cac 40 climbing 3.2% and Germany's Dax gaining 2.6%.
Next it was the turn of US investors to join the rally.
The Dow Jones index rose sharply in early trading, with the market's mood only briefly distracted by a survey that showed the US service sector slowing down more sharply than expected in June.
The Institute of Supply Management's non-manufacturing index dropped to 53.8, down from 55.4 in May and below expectations of a 55 reading. Anything above 50 indicates positive growth.
Stocks dropped slightly on the news, before quickly rallying back again.
'Technical recovery'
However, despite the rises in share prices, analysts cautioned against over-optimism.
They said the gains were largely down to overselling in recent weeks, rather than any major shift in investors' outlook.
"This was merely a technical recovery, and we see no convincing evidence of any positive changes in economic fundamentals," said Zhang Gang at Central China Securities.