'Vulnerable' mother sexually assaulted in Ormskirk wood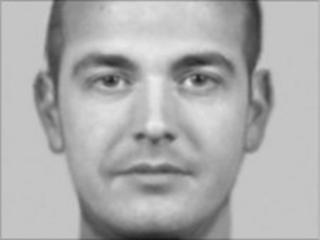 Detectives have released a computerised image of a man they want to interview over a sex attack on a "very vulnerable" mother from Lancashire.
The 36-year-old woman from Skelmersdale was befriended by the man in Coronation Park, Ormskirk, on 21 June at 1630 BST.
Calling himself Rob, he stayed with the woman for up to six hours, during which he sexually assaulted her in The Ruff woodland near Vicarage Lane.
Police said the attack took place between 2100 BST and 2300 BST.
Det Sup Steve Mounsey said: "This is a serious offence which has left a very vulnerable victim utterly distraught.
"The woman and her attacker spent several hours together in public places in and around Ormskirk in broad daylight so I would appeal to anyone that saw them together to come forward and contact us.
"They also spent some time walking around the woods where the offence took place so I would appeal to dog walkers, or young people, or anybody who may have been in the woods around the time of the offence and saw a couple matching their description, to come forward as they could have vital information to help with our investigation.
"The offender used the name 'Rob' which could be significant but could equally be an alias.
"We are in a position to rule out people very quickly and are committed to following up every new lead."
'Bandaged arm'
The attacker is described as a white man, 5ft 8ins tall, aged in his 30s, with blue eyes and short mousey brown hair.
He was wearing a distinctive blue roundneck short sleeved T-shirt with blue diagonal patterns, blue jeans and brown "Kicker-style" boots.
He was also wearing a gold ring, spoke in a northern accent and is a smoker.
The victim, who had a bandaged left arm, is white and was dressed in a pink and grey striped T-shirt with black trousers, black shoes and was carrying a light blue tracksuit jacket.