Boy dies after Birmingham hospital neglect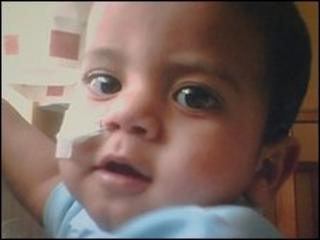 The death of a 14-month-old boy who died in a Birmingham hospital without being treated was caused partly by neglect, a coroner has ruled.
Elyas Nasserulddin Albana had a special NHS "passport" which should have fast-tracked him to treatment for an existing medical condition.
An inquest was told he died in 2008 at Heartlands Hospital while waiting for a blood test to check his salt levels.
The hospital has apologised for its failures.
A coroner ruled he died of natural causes contributed to by neglect.
The deputy coroner for Birmingham Sarah Ormond-Walshe heard that Elyas' father, Nasserulddin Muset, had been maintaining his son's salt balance for six hours, despite him being in hospital.
Elyas suffered from Bartter's syndrome, a condition which meant he had to be given regular amounts of salts and potassium intravenously.
Ms Ormond-Walshe said she had recorded the verdict due to the length of time he could have received treatment and had not, and because it was a treatment that was easy to give.
Elyas' cause of death was given as low potassium level caused by dehydration.
A hospital spokesman said it was sorry for the failures which lead to Elyas' death and apologised again to the family.
"Following the death of Elyas, we carried out a detailed investigation which we shared with the family and the coroner.
"We accept the coroner's verdict and have already put in place stringent checks and major changes.
"These include a full external review carried out by the Royal College of all of our paediatric service and the appointment of a new team to drive the changes.
"In addition, we have requested the additional support of Birmingham Children's Hospital to ensure that we are doing everything possible to deliver the highest standards of care for all of our patients," the spokesman said.