Site chosen for new York community stadium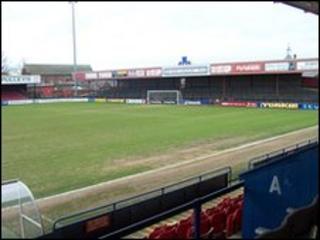 A preferred site has been chosen for a new community stadium in York.
York City Council's executive has selected Huntington Stadium at Monks Cross as the base for the 6,000 all-seat stadium.
The development is expected to create some 300 jobs and will provide a home for both York City FC and York City Knights RLC.
Both clubs have previously said that a new stadium is the only way to guarantee their long-term futures.
Other sites named on the shortlist were York City's current Bootham Crescent site, the Nestle sports ground at Millie Crux and the new Heslington campus at the University of York.
Completion date
Councillor Steve Galloway, the council's executive member for city strategy, said: "I am pleased that all three of our partners have now made a firm commitment on their preferred site for the new stadium.
"All favour the Monks Cross option. In doing so, they have recognised that it is important to make every effort to secure contributions from the private sector towards modernising both spectator sports and participatory sports facilities in the city."
Mr Galloway said efforts would be made to improve on the stadium completion date, which has been earmarked for 2014.
He added: "I, as a football supporter myself, do recognise that, for nostalgic reasons at least, many would have preferred to have established a facility at Bootham Crescent.
"But possible conflicts of land ownership - outside the council's control - could have jeopardised such a move and the site would have been very limited in what could have been provided there."