Le Cricket comes to France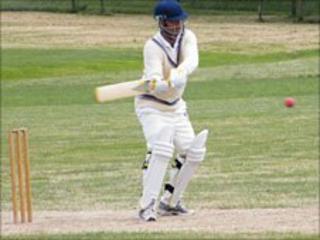 In the English-speaking world, the words "French" and "cricket" only usually appear in the same sentence when referring to a children's beach game.
"French cricket" is the rather mocking term given to a pastiche of the real game, one light on skills but high on amusement, in which the object is to hit the batsman's legs with the ball.
The disdain has long been mutual. The French have traditionally sniffed at cricket, dismissing it as a sport for English eccentrics and people from former British colonies.
But the sport is now gaining ground in France, and it isn't just expatriates who are donning cricket whites and spending Sundays playing the sport of gentlemen.
"Eight years ago, we had 500 playing members, now we have 1,200," says David Bordes of France Cricket, the national cricket association.
Mr Bordes says 40% of them are French. The rest are people from cricket-playing nations like England, Pakistan and Sri Lanka who live in France.
"The internet and satellite TV are helping to make cricket more popular," says Mr Bordes, who started playing cricket at school.
One of his teachers had become a cricket fan while studying at Oxford University and when he came back to France, he encouraged his pupils to take it up.
"I enjoyed the friendship and fun of cricket," he said. "I discovered the tactical aspect, which I love, and I was lucky enough to play for France."
'It's not football'
The French national side plays in the European second division.
Mr Bordes coaches the French junior team, which I watched in a friendly match against the local club in Saumur, in western France.
Saumur's most famous member is Mick Jagger. The rock star owns a chateau nearby and his love of cricket may have influenced some locals. But others came to it through different routes.
"I discovered cricket by watching television so I decided to have a go," said Franck Verdoux, a lawyer who started playing last year.
What was its attraction? It had one big appeal.
"It's not football. There are no crazy drunk fans around the pitch," he said. "It's quite a different game from all the other games we play here in France so it's very pleasant."
Like Mr Verdoux, the Saumur club's manager, Vincent Buisson, who is also a musician, came to cricket through TV.
"I was in the south of England playing with my band in 1993 and the only thing we had to do in the afternoons was watch the cricket on the BBC."
Mr Buisson says he knew instantly that he wanted to play cricket.
"I thought to myself, 'that's my sport'", he said. "I saw (the Australian cricketer) Shane Warne for the first time and I said, 'Anyone can do that. You don't have to be a super athlete. All you need is a good brain."
Rules translated
Mr Bordes says France Cricket would like to have a semi-professional tournament in the future and is encouraging primary schools to introduce cricket.
Four schools in central France are already doing so.
Sports teacher Emmanuel Martineau says his pupils are astonished when he tells them that cricket is the world's second most popular sport after football, as it is sometimes claimed.
"But when I show them videos, they like it a lot," he said. "I explain simple rules and I teach them how to bowl and hold a bat."
Mr Verdoux says that when he tells his French friends that he plays cricket, they look at him blankly.
"They don't understand it," he said. "It's another planet. Not another sport, not another country, but another planet."
Yet cricket is becoming less alien to the French. France Cricket estimates that the number of players is growing by at least 10% a year, and the association has translated the rules of the sport into French and published them on its website.
At the match in Saumur, instead of saying "over", the umpire said "fin de serie". The batsman is called "le batteur" and the bowler is "le lanceur", which literally means "thrower".
And "leg before wicket" is "jambe devant guichet".
With France still reeling from the dismal performance of its football team in the World Cup, Mr Martineau says he hopes French people will now become more open to other sports like cricket.