Sinn Fein ministerial drivers back on agenda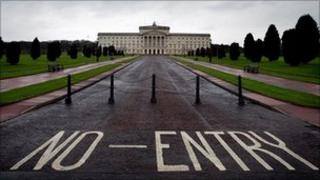 The Executive is considering whether to pay drivers for Sinn Fein ministers.
The party's ministers accept government cars but pick their own drivers rather than civil service-employed ones.
They were paid out of public money until 2007, when DUP finance minister Peter Robinson blocked the practice.
Neither party has commented on claims by TUV leader Jim Allister that the issue has arisen again because of a deal between the parties that could see drivers get three years in back-pay.
The annual base pay for a driver is between £15,000 and £22,000 and there are five ministers with drivers.
If the pay was back-dated for three years it would amount to hundreds of thousands of pounds.
A spokesman for the Department of Finance said that in the past few weeks it has sought figures on the costs involved from the relevant departments.
"We are waiting for invoices from departments before we know exactly what is being asked for so we can't put a figure on it," he said.
The DUP and Sinn Fein have not commented on the issue, but a Stormont source denied any deal was done.
The source said the matter was under review due to legal issues.
One issue, for example, could be whether Peter Robinson was within his rights as finance minister to block Sinn Fein ministers paying their drivers from public funds or whether this should have been a matter for the whole Executive.