Elderly woman's death 'not due to malnourishment'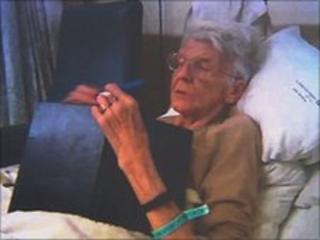 An elderly woman who lost one stone (6.3 kg) while in hospital died from a blood condition and an infected spleen, an inquest has heard.
Lucy Watkin died aged 77 at Fairfield Hospital in Bury, Greater Manchester, in September 2005.
Her family told the inquest at Bury Magistrates' Court they felt malnourishment was a factor in her death but the pathologist refuted this.
Dr Margaret Herd also said she saw no signs of neglect.
Mrs Watkin's daughter Janet said she wanted to know if more could have been done to help her mother.
Mrs Watkin spent 70 days in Fairfield Hospital in the summer of 2005. Her family say she lost the weight while she was being cared for there.
She was discharged in September 2005 but was admitted to Ramsbottom Cottage Hospital at the end of the month.
She was transferred to Fairfield where she died the following day.
The hearing, which is expected to last several days, continues.