MPs approve expenses watchdog's budget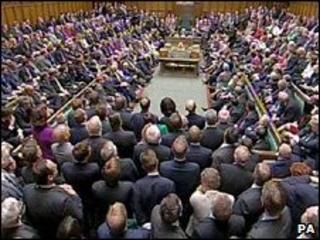 A committee of MPs has agreed the budget for the new expenses watchdog - but told it to cut its costs.
The Independent Parliamentary Standards Authority was set up to run a new scheme after the expenses scandal.
It had requested £6.46m for 2010-11 but at a "robust" meeting with MPs in June, they questioned a series of costs.
An MPs' committee says the budget will be put forward for approval but it believes "very strongly" it should be reduced in future to nearer £2m a year.
'Pretty tough'
Ipsa is an external regulator, but a committee of MPs proposes its members and signs off its cost estimate. It was created following last year's expenses scandal - under the old system the House of Commons' Fees Office had signed off expenses.
The £6.46m is Ipsa's estimate for its administrative costs in its first full year - part of its larger £156.58m cost estimate when MPs' pay, expenses and staff costs are included.
Ipsa chairman Sir Ian Kennedy, interim chief executive Andrew Mcdonald and director of finance Philip Lloyd were quizzed two weeks ago by the Speaker's Committee.
After what Speaker John Bercow described as a "pretty tough interrogation" over 90 minutes on 30 June, he had asked Ipsa for extra detail on its spending to determine "whether we can legitimately, and with good conscience, approve the estimate".
In a letter to Ipsa's bosses on Tuesday, Mr Bercow said the committee would lay an order for the budget to be approved by MPs.
But he said: "The committee believes very strongly that Ipsa should seek to reduce its administrative expenditure in future financial years to nearer the £2m budget achieved by the House of Commons in connection with the administration of payroll and expenses functions."
The letter said vacant posts should remain unfilled - as should any posts that become vacant in future - and Mr Bercow writes that Ipsa "needs to improve its understanding of the work of MPs and their staff".
But he said the Treasury had said it was "content with IPSA's estimate for 2010/11, in particular taking into account the fact that this is a newly-established organisation" although it expected costs to fall in future.
An Ipsa spokesman welcomed the fact the budget had been approved, adding: "Ipsa has introduced a new and radically different system of MPs' expenses.
"The old discredited system is gone and has been replaced by new rules, a new robust and auditable system for MPs to use when making claims, a process of verification and validation of each claim made and, for the first time, independent regulation.
"Even with these extended responsibilities, Ipsa's direct staff costs will be lower than the costs for the old House of Commons system."
'More cost-effective'
He said there would be a review later this year to make sure Ipsa was operating "as effectively and efficiently as possible" and it would "continually strive for efficiency savings and that will be reflected in future budgets".
In the meeting with Ipsa bosses in June, one committee member, Tory MP Charles Walker, said that MPs were "not convinced" that the £6.46m estimate was "value for money, because the House of Commons presented a paper saying that it delivered the functions that you are delivering for £2m".
He added that "it accepts that it is not a comparable service" but asked for evidence that Ipsa was more "cost-effective".
Andrew McDonald said that on a "like-for-like comparison" of direct staff costs related to expenses "we are doing this at a lower cost than the cost at which the Commons did it".
Ipsa says its cost includes start-up expenses and the figure will fall. It also estimates that MPs' staffing costs and expenses costs may be £12m a year lower than under the previous expenses scheme.
MPs on the Speaker's committee had accused Ipsa of choosing to build an expensive "bespoke" online expenses system that was not working well - rather than buying an "off-the-shelf solution" from another business.
Other cost complaints included the amount of staff Ipsa had - currently about 78 but due to drop to 55 - for "what is basically a payroll and expenses function". And MPs queried why there was no credit card on which they could buy services - to be settled by Ipsa - rather than paying money up front themselves.
There were also concerns about the cost of head-hunting services used for its senior executives and whether a compliance officer - on up to £90,000 a year - had to be a full-time post.
Mr McDonald argued Ipsa was more than a payroll body; it had "a role as a regulator, a setter of rules, and as a consulter of the public" as well as expenses and salaries.
He said it would not have been "cost-effective" to outsource payment of expenses. And he said that, in terms of direct staff costs relating to the payment of expenses, Ipsa was "doing this at a lower cost than the cost at which the Commons did it".
Chairman Sir Ian Kennedy said they would review a credit card system - but pointed out that statements "do not always provide sufficient information to verify the claim" and said "lax" rules under the old system meant it was "open to abuse".