South African relief as Caster Semenya gets back on track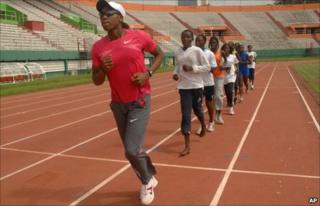 South Africa breathed a collective sigh of relief when medical experts said the country's 19-year old "golden girl", athlete Caster Semenya, was free to hit the track once more.
None could be more thrilled than the world 800m champion herself, who has endured nearly a year of media scrutiny and speculation about her gender and the future of her career.
"I am thrilled to enter the global athletics arena once again and look forward to competing with all the disputes behind me," she said in a statement.
South Africans rallied behind Ms Semenya after news that the International Association of Athletics Federations had called for tests to verify Ms Semenya's gender before she competed in the World Athletics Championships in Berlin last August.
Amid cries of racism, the fall-out was huge and politicians from different parties pledged their support for the young girl from Limpopo Province.
The country's sports minister threatened "World War Three" should Ms Semenya be barred from competing in future games.
And she was hailed as a heroine upon her return from Germany, with people at the airport carrying placards: "Caster 100% female".
'Heartbreaking'
The mood then turned to anger as conflicting reports came out about whether Athletics South Africa (ASA) had carried out the tests in secret, without Ms Semenya's knowledge.
Former ASA president Leonard Chuene was suspended for his handling of the case after it was revealed he had in fact ordered gender verification tests before she went to Berlin.
Ms Semenya's coach, Wilfred Daniels, who resigned over the poor handling of the affair, said collective blame should be taken for the controversy.
"All parties concerned should be ashamed of the manner in which this was handled right from the beginning," he told the BBC hours after Ms Semenya's all-clear announcement.
"It would be heartbreaking if procedures are not put in place by South African authorities and the IAAF to make sure the athletes concerned are not exposed to the same kind of trauma that Caster was exposed to."
Many South Africans feel lessons about the importance of protecting privacy should be learned from the teenager's ordeal.
Women and Children's Minister Noluthando Mayende Sibiya said her department would strive for this.
"The privacy of Caster was violated very, very seriously," she told the BBC.
"We need to ensure that the laws of the country are tightened so that the rights of people are observed and protected in that regard."
The minister had written a letter to the United Nations last year complaining about the "blatant disregard for Caster's human dignity".
"Nobody should be made to suffer in the way Caster was made to suffer in the past several months," she wrote.
Bitter
Ms Sibiya says it is unfortunate Ms Semenya had to wait nearly a year for the case to be cleared up.
"We hope she will continue to be an inspiration to those looking to her as an example of a young woman determined to succeed in her chosen field. I am very happy about this," she said.
Mr Daniels said his former star runner should at last be able to enjoy her achievement in Berlin.
"When we were in Berlin and even after our return she never had the opportunity to enjoy her great achievement," he said.
"Now it's time for her to put the last 10 months behind her and begin a wonderful career of international athletics that we hope will bring further glory to her and her country."
Other South Africans still remain bitter.
"They could have treated her with a lot more integrity and dignity," says Louise Daniels, 40, a florist in Johannesburg.
"I think it's wonderful that she can race, she has got huge talent."
Mpendulo Hashe, 30, a lab assistant, agrees.
"Clearing her to compete is the least that could be done, she was treated unfairly," he says.
"But let's forget about all of that and wish her all the best."
Others feel that the IAAF was justified in asking questions.
"If the tests showed that she has male hormones - then yes that does give her an unfair advantage," says Motlatse Motloga, a 20-year-old university student.
"I'm glad that she is competing because it's what she loves but those questions needed to be asked because I'm sure many people who watched her run were asking themselves the same question."
Another student, Pathuxolo Manana, 22, says he does not believe Ms Semenya was mistreated or had her rights "violated".
"This has happened in the past to other athletes.
"Of course if could have been handled better but it had to be done."