Cameron says London teen stab murder was 'appalling'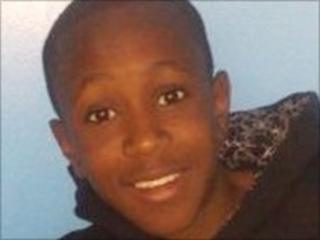 Prime Minister David Cameron has said the murder of a 15-year-old who was stabbed to death outside his south London school was "appalling".
Mr Cameron was speaking about the killing of Zac Olumegbon, who was attacked at the gates of Park Campus School, West Norwood, on Friday.
He was asked about the incident by Streatham Labour MP Chuka Umunna.
Two boys, aged 16 and 17, have been remanded in custody charged with murder and causing grievous bodily harm.
They appeared at Sutton Youth Court and were told to appear at the Old Bailey for a bail hearing on 9 July.
The boys are also charged with causing grievous bodily harm against Zac's 14-year-old friend, who was stabbed in the arm.
Another 16-year old boy was arrested on Wednesday, the eighth person to be arrested so far.
Two other teenagers have been released on bail until August.
'Tough' punishment
"It's absolutely horrific," said Mr Cameron.
"It's appalling to think that things like this happen on our streets."
The prime minister said tougher punishment was needed for carrying a knife.
"In terms of the sentencing review, I'm very clear.
"We do need to have the strongest signal about how carrying a knife on our streets is just unacceptable.
"It should not happen and the punishment will be tough," he said.
"That is the short-term measure, in my view that we need."