World Cup handover puts spotlight on Africa-Brazil ties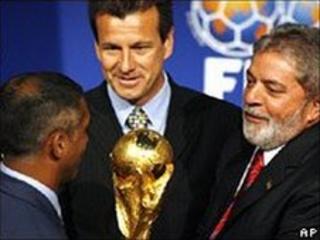 When South Africa hands over the task of organising the next World Cup to Brazil, it will be the first time the tournament passes from one emerging nation to another.
It will also be a high point for Brazilian President Luiz Inacio Lula da Silva, who has made Brazil's ties with the developing world, especially Africa, a priority of his administration.
Lula, who leaves office in December after two terms, has been to Africa on 11 occasions, more than any Brazilian president before him, taking in 25 countries.
New players
A decade of growth has turned parts of Africa into an attractive destination for foreign investment, where key emerging powers are competing for resources and markets.
"China, Brazil and South Africa all try to expand their capital in Africa," says researcher Gilbert Achcar at the School of Oriental and African Studies (SOAS) in London.
China has the highest profile and longest involvement on the African continent, fuelled by strategic reasons that include securing energy resources to feed its fast-paced growth, Mr Achcar says.
South Africa is also in a better position to build investment and trade relationships with its neighbours, "as they no longer face the political barrier created by the apartheid".
Indian companies like car manufacturer Tata Motors are also pouring money into Africa and sold goods worth $15bn (£10bn) to the continent last year alone.
Consulting firm McKinsey estimates that, thanks to rising living standards, 200m Africans will shop for more and more consumer goods in the next five years.
Brazilian companies have picked up on this trend and boosted exports of beef, sugar, cereals, vehicles, agricultural equipment and iron-ore. Exports totalled $9bn (£6bn) in 2009.
Competition
At roughly $25bn (£16bn) a year, trade between Brazil and Africa is a quarter of the volume of China's trade with the continent.
Brazilian officials accompanying President Lula on his trip to Cape Verde, Equatorial Guinea, Kenya, Tanzania, Zambia and South Africa, frequently noted China's presence.
In Equatorial Guinea, they were impressed by the number of Chinese companies involved in construction projects.
Since Equatorial Guinea discovered massive oil reserves in the 1990s, Spain, the US and China are among those seeking closer ties, while China is now the most important investor in Equatorial Guinea's gas projects.
Competition with Chinese products on the African markets has been identified as the main reason for a recent slowdown of Brazilian exports to the continent.
Brazil is now trying to persuade African leaders that its goods and companies are better suited to local conditions.
During his talks in Tanzania, President Lula noted that China brought in Chinese people to work on projects in Africa.
Brazilian mining company Vale, which lost out to Chinese firm Chinalco for a contract in Gabon in 2006, would proceed differently, he said.
"Vale will come here, will bring investment, create jobs and hire workers from Tanzania," President Lula told a business seminar there.
Historic ties
President Lula also emphasised that ties between his country and Africa are not just about business.
"We share physical, spiritual and cultural traces which make Brazil the second biggest African nation in the world," he told a summit with West African leaders in Cape Verde.
Both being former Portuguese colonies, the two countries share the same language. Their historic ties date back to the slave trade, when black slaves were brought from African colonies to Brazil until the late 19th Century.
African genes and African culture have left their traces among the Brazilian population.
But it also goes the other way, too: studies show that the Portuguese spoken in Africa, traditionally closer to the original European variety, has been considerably influenced by the Brazilian way of speaking, partly thanks to the influence of the Brazilian TV soap operas - the telenovelas.
"Brazil wouldn't be the same if weren't for the millions of Africans who took part in building the country," said President Lula.
University
Co-operation between Brazil and Africa has also grown in other areas.
Brazilian-US agricultural investment, aimed at increasing yields and quality of African crops forms part of what Brazil calls "South-South-North' relations.
A transfer of technology is also planned to help Africa produce much needed food for its growing population.
President Lula has also unveiled plans for an African-Brazilian university, to be located in the state of Ceara in north-east Brazil, which would offer places to 5,000 African students and 5,000 from Brazil.
The project is in the final stages of approval in Congress and President Lula hopes to lay the foundation stone before he leaves office.
In Cape Verde, the Brazilian leader said the university would improve capacity-building in Africa.
"Students will have to commit to spend some time back in Africa. We want to help forming much-needed professionals to work on the continent," he said.
James Victor Gbeho, president of the West African States economic bloc, Ecowas, said ties between Africa and Brazil still has a lot of potential.
"Brazil and Africa are bound by history and culture and there have been unprecedented initiatives in co-operation," he said.
"Yet the relationship is not to be only sentimental," Mr Gbeho added. "We look forward to a relationship which will enhance the living standards of our peoples."