Guernsey Airport's flight information put on Ceefax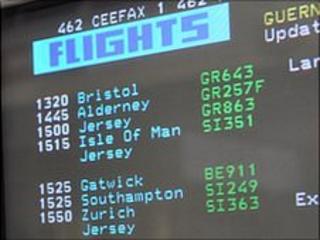 Guernsey Airport flight arrival information has been made available through the BBC's Ceefax service.
The information for both Guernsey and Jersey airports arrivals, but not departures, can be found on page 462.
Guernsey Airport director Colin Le Ray said: "Information about arrivals is already available through a number of local websites.
"The use of the internet does not suit all passengers so we are delighted that this service is available."
Previously the service was provided by Teletext UK, which closed its information service on analogue and digital television ceased to operate across the British Isles on 16 December.
It closed as it was decided the advertising-funded service was no longer commercially viable.
The new system on Ceefax has required redesign of the interfacing software and a period of testing to be be carried out for several months.
"The advantage to this new system is that islanders will be able to access the arrivals information via the 'red button'," added Mr Le Ray.