Soldiers rescuing comrade died in second Helmand blast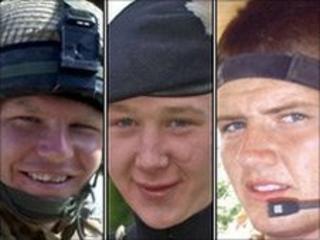 Two soldiers carrying an injured colleague away from an explosion in Afghanistan were killed in a second bomb blast, an inquest heard.
Fusiliers Simon Annis, of Salford, and Louis Carter, of Warwickshire, were carrying L/Cpl James Fullarton, of Coventry, when another bomb exploded.
All three were killed instantly on 16 August 2009.
Wiltshire Coroner David Ridley recorded a verdict of unlawful killing for each soldier.
The men were on foot patrol near Sangin in Helmand province and were trying to identify a route for the bomb disposal team to use, following an explosion earlier in the week in which another soldier was injured.
'Heard screaming'
The Taliban had planted seven bombs along the road but they were not identified by a metal detector sweep, the inquest heard.
Fusiliers Annis and Carter had collected L/Cpl Fullarton on a stretcher when a bomb exploded beneath them only 10 metres away from where they had picked him up.
Two other people were also hurt in the blast.
Warrant Officer Peter Burney was patrolling with the men and said of the second explosion: "It threw me backwards on to the ground and at that point we immediately went into darkness. The dust went everywhere.
"After the explosion, I could hear people screaming."
It is thought the bomb cluster was planted by the Taliban with the intention of destroying a landing helicopter, the coroner was told.
Marriage plans
A metal detector sweep did not find the improvised explosive devices, possibly because they had been made with low metal content, an expert told the inquest at Trowbridge Town Hall on Wednesday.
The men were members of 2nd Battalion of the Royal Regiment of Fusiliers.
Fusilier Annis, 22, was married in February a few weeks before he was sent on tour to Afghanistan.
L/Cpl Fullarton, 24, became engaged three months before he died and had planned to get married in 2010.
Fusilier Carter, 18, from Nuneaton, was on his first posting and had been with the battalion for less than six months.