Artist to light up Moel Famau's Jubilee Tower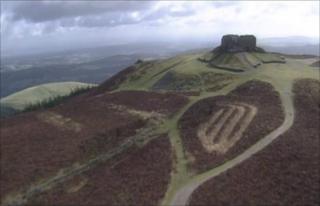 A beam of light will be shone from the highest point of the Clwydian Range, to mark the 200th anniversary of Moel Famau's Jubilee Tower.
The tower's foundation stone was laid on 25 October 1810 to commemorate King George III's Golden Jubilee.
Wrexham-based artist Chris Oakley has been commissioned by Flintshire and Denbighshire councils to install a light beam in the tower.
It will be one of a series of events planned in October.
The councils hopes residents and visitors will attend a procession on 24 October to recreate the celebrations 200 years ago.
Denbighshire countryside officer, David Shiel, said: "Two hundred years ago, we believe that as many as 5,000 people walked up to the summit to watch the first foundation stone being laid by Lord Kenyon on behalf of the then Prince of Wales."
He added: "We are hoping to see as many people as possible join us at the summit to celebrate this important anniversary.
"The Jubilee Tower is an iconic feature of our beautiful landscape and we hope to give it a fitting tribute on the day, as well as providing a memorable experience for all who attend."
Moel Famau lies within the Clwydian Range Area of Outstanding Natural Beauty, which spans Denbighshire and Flintshire's borders.