Image of woman who verbally assaulted rail guard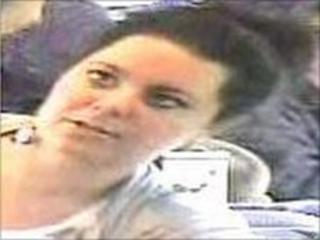 An image of a woman has been released by police investigating a verbal assault on a train guard on a service travelling between York and Malton.
British Transport Police (BTP) said the incident happened on the 1647 First Transpennine Express service from Scarborough to Liverpool on 26 April.
A guard was carrying out checks when he seized a woman's ticket for not producing a valid rail card.
She followed the guard, shouting and screaming abusive language, BTP said.
Pc Nick Storey said: "The woman produced tickets for herself and three children however could not produce a valid family railcard to cover the tickets.
"For failing to produce valid passes, the guard seized their tickets as invalid.
"The woman then started to follow the guard as he moved down the train, shouting and screaming abusive language and prodding the guard in the arm."
The officer said the woman and three children left the train at Malton station.
Pc Storey added: "The behaviour towards this member of staff, who was simply doing his job, was unacceptable and I am appealing for anyone who recognises this woman to contact police."