Philippine coup plotter surrenders to new government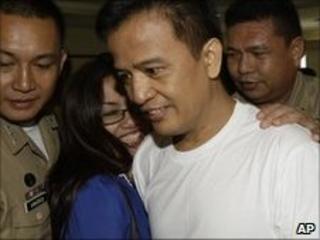 A rebel soldier, Nicanor Faeldon, has surrendered after three years on the run, saying he recognises the legitimacy of the new Philippine government.
Mr Faeldon was one of several soldiers who walked out of their 2007 trial to occupy the five-star Peninsula Hotel.
The soldiers had been on trial for a 2003 coup attempt but said they did not recognise the court's legitimacy.
They accused former President Gloria Arroyo of lacking the right to rule.
Mr Faeldon's lawyer, Trixie Angeles, said the soldier had now surrendered "in recognition of the legitimacy" of newly-elected President Benigno Aquino.
'Voluntary return'
Navy spokesman Lt Col Edgard Arevalo said Mr Faeldon walked into Marine headquarters on Wednesday.
"There is no reason for me to stay unaccountable now. We have a new government which has the mandate of the people," Mr Faeldon told reporters shortly after his surrender.
"He was not captured," the lawyer, Trixie Angeles, told reporters. "He voluntarily returned to his camp.
"This has been planned long ago because he wanted himself to be under the jurisdiction of a duly elected president."
In the 2003 coup attempt against Gloria Arroyo, Mr Faeldon was accused of helping to lead 300 soldiers in a takeover of the Oakwood Hotel and a nearby shopping centre in the centre of Manila.
He was among the soldiers brought to trial for this in November 2007 who walked out of the court-room and occupied the Peninsula Hotel, sparking a day-long siege.