Don Johnson awarded $23.2m Nash Bridges profits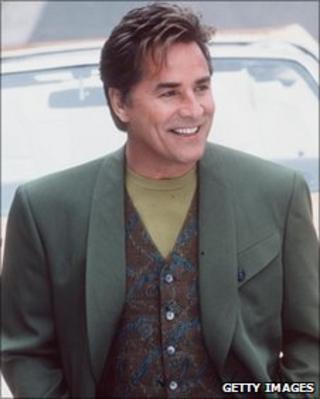 A jury has awarded Don Johnson $23.2m (£15.2m) in profits he said he was owed from US TV police drama Nash Bridges.
The Miami Vice actor, 60, claimed in legal papers filed in 2009 he owned 50% copyright and was owed money for the NBC series, which ran from 1996-2001.
Producers Rysher Entertainment said it had lost money so he had not been paid.
Mr Johnson said in a statement he was "so pleased" the jury agreed with him. "It was my idea and I owned the rights in the first place," he added.
"I have waited for more than 10 years for Rysher to recognise me as the co-owner of the Nash Bridges series."
He added: "From the beginning, I have asked only that Rysher honour our contract and I am so pleased that the jury agreed with me," Johnson said in a statement.
Rysher had contended during the two-week trial that the show had lost money overall and that shooting in San Francisco had contributed to high costs.
It said Mr Johnson had made about $40m (£26.3m) from fees as an actor and producer on the show and was not owed any more.
Rysher's lawyer, Bart H Williams, said: "We're disappointed in the verdict and we'll appeal."
Worldwide syndication
Mr Johnson played the eponymous police inspector in Nash Bridges, which aired for 122 episodes.
His lawyers claimed the show had generated $325m (£214m) in revenue including $150m (£98.8m) from worldwide syndication.
Jurors confirmed Mr Johnson's claim that he owned 50% of the show's copyright.
Mr Johnson's lawyer, Mark Holscher, said his client could make a further $25m (£16.5m) in the future because Nash Bridges was still shown in 45 countries.
Mr Holscher said the case had been a success "not just on a financial level but on a personal level - it was vindication that he was getting credit for his ideas".
Two other companies, Qualia Capital and 2929 Entertainment, were also successfully sued by Mr Johnson as part of the same case.