New lighting scheme for Weymouth seafront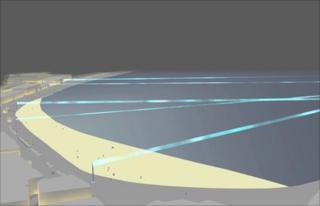 A new lighting scheme has been proposed for Weymouth seafront to replace "outdated and redundant" lampposts.
Lighting consultants and artists are already developing the project and carrying out initial design work.
The plan is being funded by Weymouth and Portland council after the South West Regional Development Agency withdrew £6.6m for the programme.
The plans will be on display for public comment at the Mulberry Centre from Friday to Tuesday, except Sunday.
'Exciting and innovative'
The lighting columns were already due to be removed by Dorset County Council in conjunction with highway regulations.
The council is using an estimated £948,000 available from its own funds to pay for the new lampposts, with some of the money also going to improve listed Victorian shelters.
Councillor Howard Legg, chief of special projects and 2012 at Weymouth and Portland Borough Council, said: "The emerging proposals for the new lighting scheme are really exciting and innovative.
"I believe they will help support Weymouth and Portland's growing reputation as a resort."