Isle of Wight voters angry at boundary change plan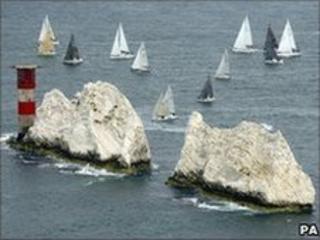 Isle of Wight residents have reacted angrily at the prospect of being represented by the mainland.
Electoral reform plans suggest creating constituencies of 75,000 voters but the island currently has 110,000.
Island Tory MP Andrew Turner fears the extra 35,000 constituents could be added to a constituency in Hampshire.
Some residents say the island has different needs to the mainland. The Boundary Commission has until 2013 to make its recommendations.
East Cowes Resident Pat Luckett said: "An MP on the mainland is not going to want to fit into his busy schedule coming over to the island.
"We are fed up with being lumped in with the South East.
'Unique status'
"We are an island, we want to be treated as an island."
Resident David Holmes, from Totland, said: "The idea that you could pick a piece of the island and pretend it is part of the mainland is laughable.
"I think most people would think this was an April Fool's story. The economics of the island is completely different to the South East."
In the proposals, Deputy Prime Minister Nick Clegg said, if approved, the changes would reduce the number of MPs by 50, to 600, which could save taxpayers up to £12m a year in salaries, pensions and allowances.
He said the only areas not affected would be Orkney and Shetland and the Western Isles, which were considered "uniquely placed".
But Mr Turner said: "I am very disappointed that Nick Clegg has not yet recognised the unique status of the Isle of Wight.
"I will be fighting to try to make him see sense. I fully support reducing the number of MPs - but not at the cost of losing long-recognised historic and geographic boundaries.
"If the Boundaries Commission increased the average size of constituencies to the 110,000 voters we have on the island we would only need 413 MPs - that would be a very real saving."