Jail term for drug gang's Exeter ringleader Pepperell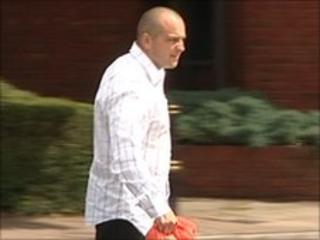 The mastermind of a gang involved in supplying drugs to large areas of the South West has been jailed.
Shaun Pepperell from Exeter, who admitted conspiring to supply Class A and Class B drugs, was sentenced at Exeter Crown Court.
The 36-year-old was given three sentences, the longest of which was 13-and-a-half years.
Drivers employed by Pepperell to collect cannabis and cocaine and distribute it were also jailed.
Jason Hutchings, 38, of Whipton, Exeter, was sentenced to eight-and-a-half years. Neil Western, 36, also from Whipton, was sentenced to five years and nine months.
'Weight of evidence'
Twenty-year-old Matthew Mingo, of Coleford, Crediton, was jailed for five years.
Gavin Squires, 32, of Tedburn St Mary, and 61-year-old Patrick Hurley, of Wonford, Exeter, were both jailed for 21 months. Christopher Land, 27, of St Thomas, Exeter was sentenced to 18 months.
Joshua Sprague, also from St Thomas, was sentenced to nine months, suspended for two years. He was also given a weekend curfew.
Sentencing Pepperell, Judge Graham Cottle said: "You were prepared to play for high stakes, reaping the rewards using others to do your dirty work."
Police said all the gang members had originally pleaded not guilty, but they later changed their pleas because of the weight of evidence against them.
The court heard that one of the gang had turned whistleblower to lift the lid on the conspiracy, telling police two kilos of cocaine would change hands on each run - and handling cash of up to £70,000 a time.