Battle of Britain's humble WWII pilot Bill Green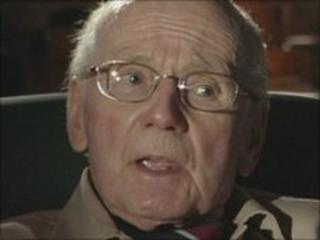 Sgt Bill Green had been part of the Battle of Britain for nine days when he was shot down by a German fighter.
The Germans' Blitzkrieg warfare had overrun Belgium, the Netherlands and northern France in May 1940.
Hitler had discussed plans to invade Britain, initially using the Luftwaffe to win air superiority over the English Channel.
On 29 August, Mr Green was an inexperienced pilot flying at a height of 20,000ft above Deal in Kent.
He said: "If you had said to me, 'Is there any chance there would be any aircraft in the sky that you haven't seen?' I would have said, 'No chance.'
"But suddenly, a hole appeared in the bullet proof windscreen in front of me and I immediately started to get covered in glycol (engine antifreeze).
"I realised I had to get out. I had got as far as taking the weight off my bottom and onto my feet when I was sucked out."
The force with which Sgt Green rushed through the air ripped the boots off his feet. He pulled the rip cord of his parachute but nothing happened.
As he plummeted to earth at 120mph, the 23-year-old's thoughts turned to his wife, Bertha.
"I had only been married for about 12 weeks and I supposed I was seeking my end - for I was sure it was going to happen - through thoughts of my wife," he said.
"I remember clearly thinking, 'I wonder if Bertha will wonder if I wondered what it was going to be like when I hit the deck.'
"I remember praying. I wasn't Christian at the time, I am now.
"I remember saying, 'Please God open this bloody parachute' and quite magically the wind got under one of the folds with some vigour and kicked me back with a jolt.
"The quietude that hit me had more impact than any noise I've ever heard. and with that I thought, 'My god I'm alive.'"
Mr Green likened the summer of 1940 to having a role in Lewis Carroll's novel Alice in Wonderland.
He had joined the Royal Auxiliary Air Force as an engine fitter in December 1936, and shortly before the outbreak of war, he trained as a pilot.
Just 11 days before he was shot down above Kent, he flew a Hurricane for the first time.
Mr Green recalled the moment his commanding officer asked him to test the single-seater fighter at Biggin Hill airfield in Kent.
"He said, 'See that one, go and sit in it, and when you feel comfortable, whack it off'", Mr Green said.
"I said, 'Hang about, I need to know a little bit about it. What speed does it lift off? What speed does it come in?'
"But I went and sat in it, and when I was more afraid to get out than I was to take off, off I went and frightened myself to death."
'Light flashing'
The day after his first encounter with a Hurricane, he was transferred to RAF Gravesend at the request of his commanding officer.
Mr Green, who is now 93 and living in Somerset, said: "I learned in retrospect we had lost four aircraft and four pilots the day before so he was desperate for people like me.
"So I flew back, was shown a bed in a hut. I had a cup of cocoa and a cheese sandwich and got my head down.
"In the early hours of the morning there was a light flashing in my face and I said, 'No, no, not me. I'm green, I've just arrived'."
But later that morning, he was transferred to RAF Hawkinge in Kent where 501 Squadron was based.
It was 20 August and Sgt Green had officially joined the Battle of Britain, one of the most crucial battles in British history.
Nine days later, he was shot down.
After his parachute finally opened, he landed on a farm in Elham Valley near Folkestone.
He said: "I sat in a field on my bottom and looked around. The field was full of thistles and cowpats and I thought, 'I've got to walk around this old trash in my stockinged feet'.
"Then two blokes came out of the farmhouse with shotguns and realised I was English.
"They helped me up and I couldn't stand because I'd been hit, without knowing it, in the leg.
"They took me back to the farmhouse and gave me a cup of tea and that was the end of the Battle of Britain as far as I was concerned."
Mr Green continued to serve with the RAF, reaching the rank of Flight Lieutenant.