County Armagh bunker reveals secrets from the Cold War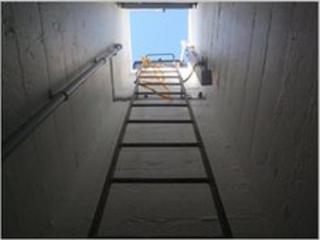 A County Armagh man is bringing to life memories of the Cold War.
Alistair McCann has acquired and painstakingly restored what was one of almost 60 secret bunkers in Northern Ireland, manned by volunteers from the Royal Observer Corps (ROC) all through the Cold War.
They formed part of a network of "monitoring" posts across the UK.
The ROC's job was to "monitor" and "report" on any nuclear explosions and radioactive fallout if the war of words between the US and Russia had ever escalated.
He now plans to open the bunker as a unique museum, partly to pay tribute to the courage of the men and women who worked in it.
To step back in time, you have step inside an entry hatch and climb down a narrow shaft 12 ft under an anonymous field three miles outside Portadown.
"The first couple of times you do it, you can feel a bit claustrophobic because it is quite a small confined space but the more you do it the more you get used to it," he said.
'Alternating shifts'
Once inside, you enter a two room living quarters and operational area.
"In the main monitoring room itself, the main features are obviously bunkbeds. During war time, there would have been three observers down here at a time, on 24 hours, basically alternating shifts.
"Every 24 hours they would be replaced by another three and whoever was down here, if a bomb went off, they would be there for the period that the nuclear exchange lasted for."
The volunteers were completely cut off from the "outside" world.
"It's scary to think, that three men, even women as well, who were in the ROC would have been down in this post for three weeks while their families were up above ground," he said.
"They wouldn't have known what happened to them and for many this would become their tomb because if a nuclear explosion had gone off quite close to us, you probably would survive the initial explosion but your chance of survival in the weeks and months after that would have been very, very slim."
Do their duty
As well as viewing the living conditions, visitors are also able to "see" and "handle" authentic equipment that would have been used during a nuclear war.
A grim set of operating instructions urged the volunteers to ignore the walking wounded if they had to go above ground and to always simply do their duty.
Mr McCann said it was important not to forget the past.
"We've things in this country that really should be opened to the public, that's one of the reasons why I did it here, because you could live four or five hundred yards away from here and never have a clue what it was.
"I just think people should know a bit about the different history of this country.
"There is a lot we do know about but there is also a lot of it underground that people still don't know.
"Hopefully this will give people a bit of a taste of about what could have happened."