Top civil servant attacks 'Macho' talk on job cuts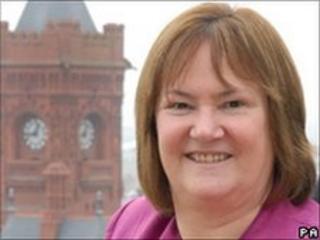 Wales' top civil servant has attacked what she calls a "macho" atmosphere around public sector job losses.
Dame Gillian Morgan said people's jobs and livelihoods were being treated as "things to be trumped".
She said that while public sector and assembly government jobs would go, that did not necessarily mean compulsory redundancies.
Assembly ministers say last month's Budget means Wales faces an estimated £500m funding cut next year.
Dame Gillian, the Welsh Assembly Government's permanent secretary, refused to reveal the financial planning assumptions currently being used by ministers, but said that announcements on cuts would be made after the UK government's Comprehensive Spending Review in the autumn.
She confirmed that many staff on short-term contracts were seeing their work come to an end, and said a programme was under way to identify those civil servants who were prepared to work shorter hours, take early retirement or voluntary redundancy.
Public sector unions and the Welsh Local Government Association have repeatedly warned that thousands of jobs are at risk in the public sector amid severe spending cutbacks to deal with the UK budget deficit.
Speaking at the Welsh assembly's Public Accounts Committee, Dame Gillian said: "We have to be very careful.
"There is a sense of "machoism" about at the moment, where if you listen to what people say, they talk about people's jobs and livelihoods as if they're things to be trumped.
"Well, "you'll have 3,000 redundancies", "I'll have 10,000 redundancies", that is not the way to talk about this. There are people at the end of this."
She said that the number of full time equivalent jobs in the assembly government had reduced by nearly 130 since April 2009, but added: "We need to separate out reducing jobs from getting rid of people."
She denied that the redeployment pool of civil servants amounted to paying them to be on "gardening leave" after their jobs had been made redundant, saying that it had proven an effective means of keeping people in work and avoiding having to make expensive redundancy payments.
Dame Gillian said that all staff were being actively encouraged to come up with ways of saving money across the organisation, and cited one example where a change in photocopier toner was now saving £250,000 a year - a change suggested by a member of staff.