Pregnancy checks urged before surgery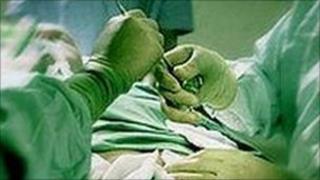 Hospitals are being urged to double-check whether women are pregnant before surgery because of risks to the developing foetus.
National Patient Safety Agency figures show 42 "serious incidents" between 2003 and 2009, including three women who miscarried after surgery.
Women should always be asked if they might be pregnant just before an operation, the NPSA warned.
But some hospitals are not doing the proper checks, it said.
If surgeons are aware of the pregnancy, they may be able to postpone the operation, or change the type of anaesthetic or even the procedure the patient is due to have.
However, the figures suggest that there are inconsistencies between hospitals, the NPSA wrote in the British Medical Journal.
In some cases, questions are asked at the pre-operative assessment, but this may happen weeks before the actual operation, the agency warned.
It also highlighted 12 legal cases brought against the NHS where the patient had not been asked about a possible pregnancy before surgery.
Although no study has been done in the UK, data from the US suggests that between 0.15% and 2.2% of women could have an "undiagnosed" pregnancy at the time of surgery.
Timely checks
Under national guidelines, clinicians should always check whether a woman could possibly be pregnant just before the operation, especially for any surgery to the abdomen or pelvis.
And if there is any chance a woman could be pregnant, she should be offered a pregnancy test.
John Black, president of the Royal College of Surgeons of England, said information on potential pregnancy needed to be sought as near to the operation as possible.
"Knowing whether a patient is pregnant or not is an important factor in assessing the risk of carrying out a procedure and has an impact on how the operation is carried out so it is vital information for both surgeons and anaesthetists.
"For women undergoing surgery, this highlights how being pregnant is a factor in medical treatment and is a check worth having."