Haiti: Aid effort six months on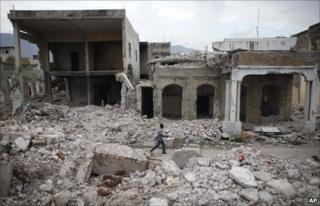 The human cost of the earthquake in Haiti has been huge; millions were left hungry, their homes, schools and hospitals destroyed and their livelihoods taken away.
The earthquake - the most powerful to hit Haiti for 200 years - caused maximum impact as it hit the most densely populated area of the country.
A government assessment said the damage was all the more severe because it came after a period of relative stability, when people had begun to see their living conditions improve.
An emergency flash appeal launched by the international aid community within days of the earthquake quickly reached its $577m (£380m) target - but that target had to be revised upwards a month later when the full extent of the humanitarian operation became clear.
The UN Office for the Co-ordination of Humanitarian Affairs (OCHA) issued a new target of $1.5bn . The key aim was to provide an "environment for safe and healthy living for all affected people until reconstruction restores normality."
In April, the international community pledged a total of $9.9bn in immediate and long-term aid at a UN donor conference.
By July, 64% of the flash appeal had been met, according to OCHA, either in direct funding or in binding commitments to provide funding.
However, there are fears the humanitarian situation will worsen with the coming hurricane season. Emergency shelters made from tarpaulin are not substantial enough to withstand heavy weather and many temporary camps are also prone to severe flooding.
"With so many people still so vulnerable after the recent earthquake, a serious hurricane this year could be devastating," said Sarah Muscroft, head of OCHA in Haiti.
Aid workers are distributing and building "transitional shelters" which have steel or timber frames and provide more protection than tarpaulins and tents, but they take a relatively long time to construct.
Efforts are also hampered by the estimated 20 million cubic metres of rubble created by the earthquake. The latest OCHA action plan aims to clear 10% of the rubble but it will take 90 days and cost $120m.
In March, the Haitian government published a Preliminary Damage and Needs Assessment (PDNA) which estimated the cost of rebuilding the country would be $11.5bn, spread across governance, environment, social sectors, infrastructure and production.
Social services were inadequate before the earthquake with many children not attending school and 38% of the population over the age of 15 were illiterate.
Reconstruction money will be spent on providing free primary education for all, improving access to health services and reducing malnutrition.
Money spent on infrastructure will include training in building techniques to reduce risks, restoring the road and telecommunications networks.
Before the earthquake, unemployment was running at 30%. Trade, tourism, transport and communication were all badly affected by the quake and so efforts will concentrate on economic growth to create new jobs, as well as improving working conditions.