China dairy products found tainted with melamine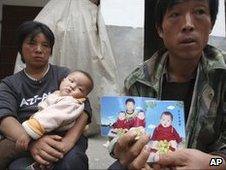 Chinese food safety officials have seized 64 tonnes of raw dairy materials contaminated with the toxic industrial chemical melamine.
The Chinese state news agency, Xinhua, reported that the quality watchdog in Qinghai province took the material from a dairy plant there.
Test samples showed the milk powder carried up to 500 times the maximum allowed level of the chemical.
The use of melamine in milk in 2008 killed six babies and made 300,000 ill.
The latest batch of contaminated powder was first found in Gansu province and traced back to the Dongyuan Dairy Factory in Minhe Country, in neighbouring Qinghai.
Another 12 tonnes of finished milk powder products, also found to be tainted, were seized.
The owner and a production manager at the factory have been detained.
Around 38 tonnes of the raw material were bought from Hebei province, the source of the 2008 scandal, police said.
This means traders may have bought tainted milk that should have been destroyed in 2008 with the intention of processing it and reselling it, Wang Zhongxi, deputy chief of Gansu's quality control bureau, was quoted as saying.
Melamine is used to make plastics, fertilisers and concrete.
When added to food products it indicates a higher apparent protein content but can cause kidney stones and kidney failure.
In 2008, melamine was found in the products of 22 Chinese dairy companies - one out of every five suppliers in China.
The scandal caused outrage among consumers and fraught parents and led to an international outcry about the standards of food safety in China.
More than 20 people were convicted for their roles in the scandal, and two people were executed.
Despite a crackdown on melamine-laced milk products, some batches of tainted supplies have been found on sale since 2008.
It is not clear whether any powder from this new discovery has been sold on the open market or if anyone has fallen ill, but the fact melamine is still being used illegally will be a cause for serious concern, the BBC's Damian Grammaticas in China says.
Related Internet Links
The BBC is not responsible for the content of external sites.