Newspaper review: 'Spy swap' deportation prominent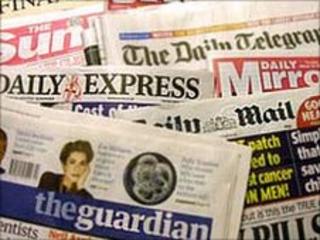 The deportation of 10 Russian agents from the US in a so-called "spy swap" features prominently in most papers.
The Guardian says it is one of the biggest, most unusual and least secret deals known to superpower espionage.
For the Financial Times it was a spy drama reminiscent of the Cold War - except in those days, it says, news of swaps rarely got out.
The Times, meanwhile, says swaps today are more mundane as spies are now an embarrassment to Moscow and Washington.
'No-one safe'
CCTV images of suspected killer Raoul Moat, issued by police, appear widely.
The search for him in the Rothbury area of Tyneside leads the Daily Mail, the Daily Mirror, the Sun and Daily Star.
The Daily Star says that after his threats to target the public, as well as the police, no-one is safe.
The Guardian says police are continuing to play a psychological cat and mouse game as they try to establish a rapport with Moat - flattering his ego in their public statements.
Split loyalties
The Times leads with Iran's announcement that a woman convicted of adultery will not be stoned to death - but did not say whether she would be executed or hanged instead.
The Guardian says 12 more Iranian women are awaiting execution by stoning.
The Independent claims tensions will run high between the deputy prime minister and his wife when Spain play the Netherlands in the World Cup final.
Nick Clegg has Dutch family and Miriam Gonzalez Durantez was born in Spain.
Glimpse of history
The sketch writers were out in force in the House of Lords to see John Prescott become a peer of the realm.
Simon Hoggart in the Guardian calls it a glimpse of history.
The Sun tells its readers the former deputy prime minister was once quoted as saying he had no interest in "flunkery and titles".
And the Daily Telegraph's Andrew Gimson says he seemed immediately at ease, and bore himself with dignified humility - with his wife Pauline smiling graciously.