Bank was 'given oil field stake' by Fitzpatrick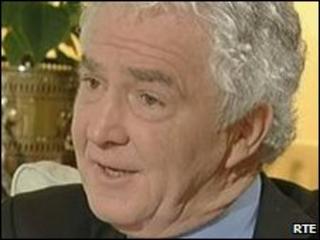 Former Anglo-Irish Bank Chief Executive Sean Fitzpatrick provided the bank with a larger stake in a Nigerian oil field in a bid to safeguard his family from creditors.
It is also claimed he offered 3m euros of his pension pot to the bank and other creditors to offset 110m euros of debt but this was rejected.
The reports were in the Irish Independent on Friday.
On Monday, Mr Fitzpatrick's creditors will apply to have him bankrupted.
In March of this year, the nationalised bank announced what was reported to be the largest corporate loss in the history of the Republic of Ireland.
Mr Fitzpatrick borrowed millions of euros to buy shares in the bank prior to its collapse.
The Irish Independent's deputy business editor, Emmet Oliver, said Mr Fitzpatrick had sought to protect his wife and children by offering to swap a greater share in the Nigerian oil field in return for a promise they would not be pursued for money owed on property investments.
He also offered greater security over other assets.
Mr Oliver said the bank had agreed to do this in February 2009, which effectively meant Mr Fitzpatrick's family would "only be liable for the worth of the properties - not for the total amount borrowed on them".
He reports that legal papers filed by the bank in that month state that it "did limit its recourse against the family" and in return the bank's security over the oil field was "enhanced".
"What he tried to do last year was to say to the bank 'come after me but don't come after them'," Mr Oliver told BBC Radio Ulster.
"So effectively he gave over more security over his own assets in exchange for them dropping full recourse against his own children and wife.
"In a desperate attempt to insulate them from the grinding wheels of this bankruptcy, he did that deal and the bank did concede to that."
Pension
The journalist also outlined the offer Mr Fitzpatrick had made to the bank with regard to his pension.
"This week he made a second attempt where he effectively offered up half his pension - which is worth about 6m euros," he added.
"He said 'look you can take my portion which is worth about 3m euros' - the other portion is for his wife - and he said 'look this will help it is not going to clear the 110m euros but it will make some inroads into it'.
"The bank flatly rejected that offer."
Mr Oliver said he believed "all options" were now closed off to Mr Fitzpatrick ahead of the bankruptcy proceedings in Dublin on Monday.
The Anglo-Irish Bank is chasing a total of 155m euros in loans owed by its former directors.
Mr Fitzpatrick owes more money than any other former director.
He stepped down from the bank in December 2008 after admitting hiding from the bank's shareholders 87m euros of personal borrowings he had taken from the bank between 2000 and 2007.
Mr Fitzpatrick has not been charged with any offence.
A spokeswoman for the Anglo-Irish Bank said it did not wish to comment at this time.