Delhi survey suggests city unsafe for women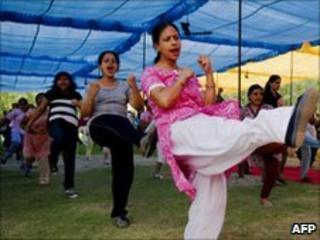 Two in every three women in the Indian capital have faced some form of sexual harassment in the last year, a government-backed study has suggested.
Delhi women face continuous and different forms of sexual harassment in crowded and secluded places, it says.
Teenage students and women working in the unorganised sector are the most vulnerable, the report says.
The survey by two UN agencies and an NGO is based on a sample of 5,010 women and men.
It was undertaken between January and March.
The survey is titled "Safe City Free of Violence for Women and Girls"
A BBC correspondent in Delhi says the findings confirm what the people of Delhi have known for a long time - that the city is unsafe for women.
'Buses most unsafe'
"Women in the national capital feel unsafe in many public spaces, and at all times of the day and night," the survey says.
Public transport, buses and roadsides are reported as spaces where women and girls face high levels of sexual harassment.
Most women who were surveyed said buses were the most unsafe form of transport.
Many said the Metro system, which used to be safer earlier, is now equally crowded and unsafe.
The report says the most common forms of harassment are "verbal (passing lewd comments), visual (staring and leering) and physical (touching or groping or leaning over)".
Women of all classes have to put up with harassment in their daily lives, but students between 15 and 19 years old and women employed in the informal sector are specially vulnerable, the survey says.
Poor infrastructure - including absent street lights, unusable pavements and a lack of public toilets - is one of the main reasons behind the lack of women's safety, the report says.
The survey was commissioned by the Delhi government's department of women and child development.
It was carried out by Jagori - an NGO working in the field of education, health, and women welfare - UN Development Fund for Women (Unifem) and UN Habitat (UN Human Settlements Programme).